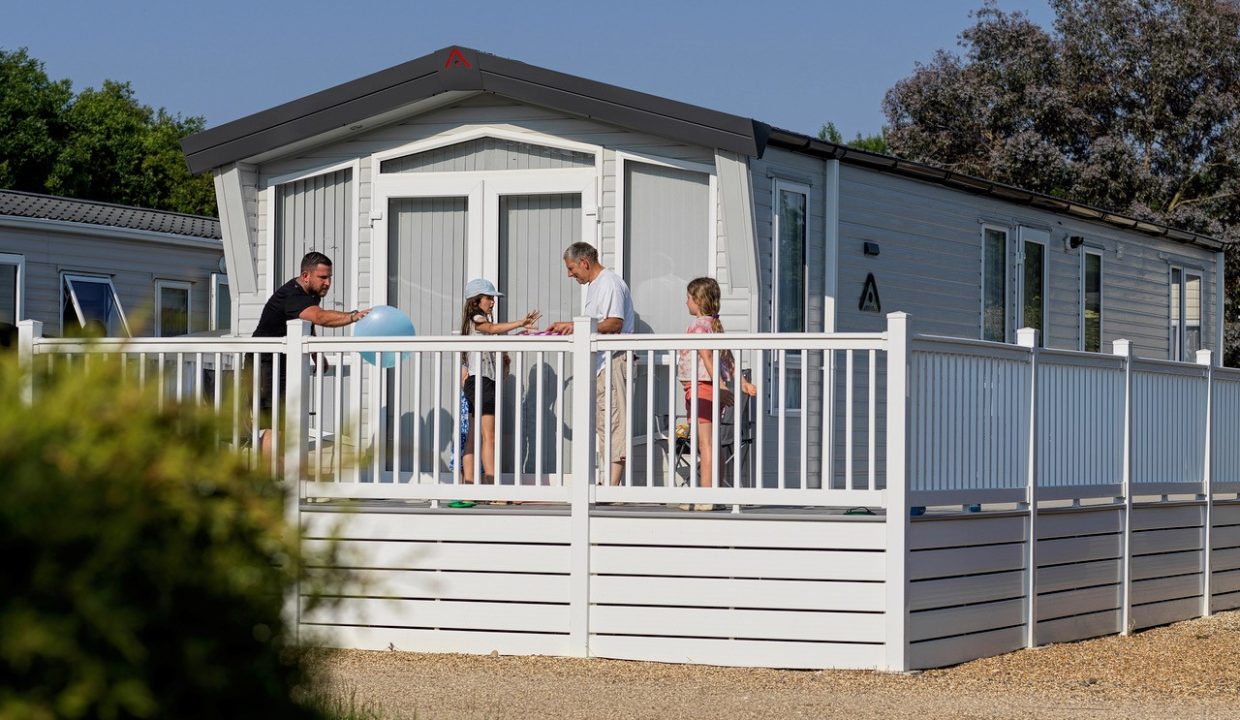 'Holiday Home Life' will be Showcased at Open Weekend
Cream teas, fizz and classic cars will be available at Stonham Barns Park who will also be offering a selection of luxurious holiday homes and lodges with stunning views of the Suffolk countryside and beautiful fishing lakes during the Open Weekend on 19th and 20th August.
The venue, known for its tranquility and leisure facilities, is currently undergoing enhancements, including the development of new homes surrounding a golf course. Visitors can take tours of the holiday accommodation and explore amenities such as golf courses, fishing lakes, Legends Sports Bar, Carters of Suffolk Teapot Pottery, The Aspal Theatre, and more.
During the Open Weekend, guests can enjoy a complimentary cream tea at Café 24, located within the park. Additionally, on Sunday, there will be a Classic Car Show, featuring hundreds of vintage cars for enthusiasts to enjoy.
Stonham Barns Park is a popular destination for families from the East of England and across the UK, due to its proximity to the Suffolk, Norfolk, and Essex coasts. The affordability of holiday park home ownership in comparison to traditional holiday homes makes it an appealing business opportunity, especially amid the current cost-of-living crisis, which has led to fewer people going abroad. Many visitors choose to rent before considering purchasing a holiday home, and this trend has increased over the past two years, as more individuals seek the certainty and convenience of UK-based vacations.
According to Nick Church, Holiday Home Sales Manager at Stonham Barns Park, holiday homes offer outstanding value for money and provide families with an invaluable escape and quality time together. The availability of state-of-the-art static caravans and lodges, which can be utilized for up to 11 months a year, has attracted a new set of buyers looking to optimize their breaks throughout the year. These modern holiday homes have evolved to provide residential-level luxury, making them even more desirable for weekend getaways or visits to friends and family without imposing on their hospitality.
Holiday homes within the static section of Stonham Barns Park generally range from £15,000 to £70,000 and typically feature two bedrooms accommodating up to six people. With the option to rent out to family and friends, buyers can often recoup their investment within 3-4 years. Alternatively, lodge sales range from £60,000 to £350,000, offering lake or golf course views and amenities such as decking, BBQ areas, and hot tubs. Most lodges also include two bedrooms and additional sleeping space in the living areas, along with master bedrooms featuring showers and open-plan kitchen and living spaces, creating a true home-away-from-home experience. The desire for an outdoor lifestyle and al fresco dining are key factors driving the demand for UK holiday home purchases.
Stonham Barns Park also features an owl sanctuary, approximately 40 village shops, cafes, a restaurant, and a new garden centre.
For more information about holiday homes at Stonham Barns Park, interested individuals can contact Nick Church at 01449 7115755 or email [email protected].
Stonham Barns Park is a vibrant family complex offering holiday accommodations, attractions, and activities in the heart of Suffolk, UK. Additional information is available at www.holidayparkhomes.co.uk.