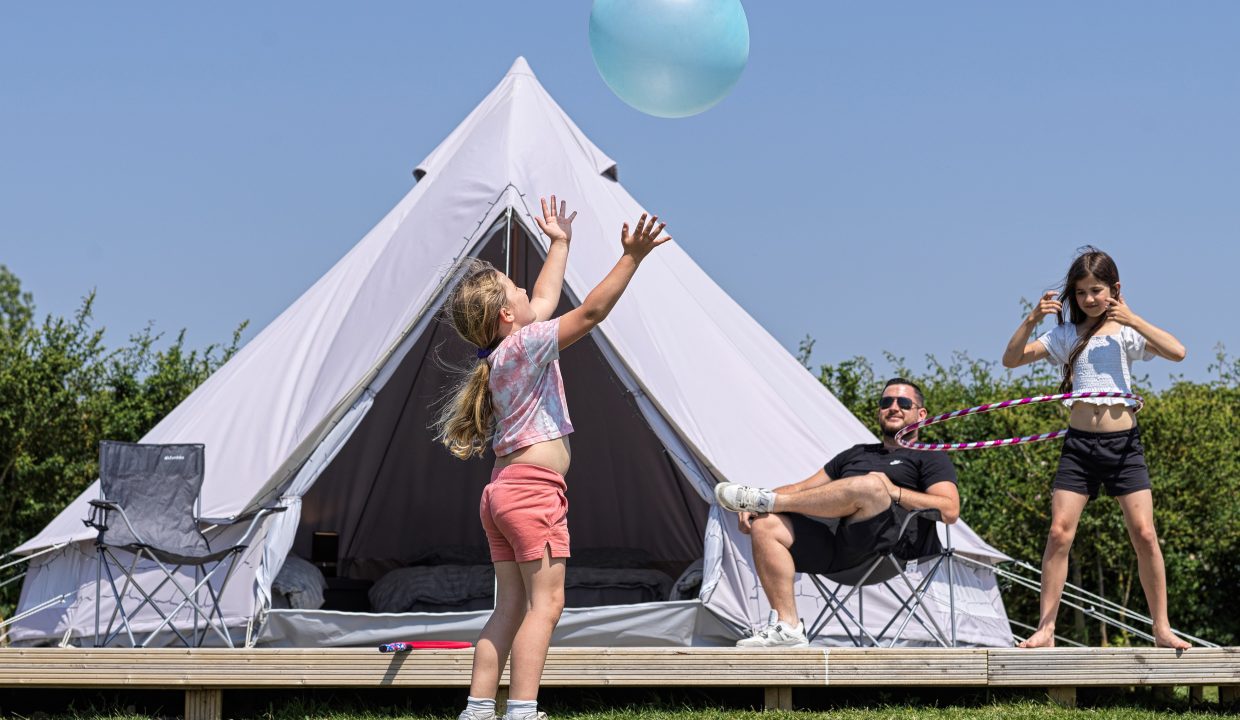 Short Breaks Help Mental Health and Wellbeing
A new study has been welcomed by Stonham Barns Park
A major new study – undertaken by Sheffield Hallam University and Liverpool John Moores University – has revealed how camping in the big outdoors is good for your mental health and wellbeing.
The Outjoyment Report included a survey of 11,000 campers and non-campers, assessing attitudes towards the benefits of all types of camping such as pitching up in a tent or motorhome or going glamping. The study – commissioned by The Camping and Caravanning Club – has been welcomed by the directors of Stonham Barns Park who are gearing up for the main summer season.
At Stonham Barns Park you can stay in the The Aspal Campsite which hosts touring caravans, motorhomes, tents and even tipis – and offers the ultimate luxury camping experience in the form of glamping which is becoming increasingly popular. Campsite pitches are available with or without electrical hook ups, all set in a parkland location with a children's play area and easy access to all the facilities at Stonham Barns Park. Dogs are welcome too.
The study shows that 97% of campers said happiness is their top motivator for going camping. 93% said being more connected to nature was important and 93% said they felt benefits to their health and wellbeing. 88% reported being less stressed after a camping experience.
Another option for holidaying at Stonham Barn Park, is a luxury static holiday home or lodge, with breath-taking views over the Suffolk countryside and stunning fishing lakes. A peaceful and tranquil location, which is being enhanced during 2023 with the introduction of new lodges, facilities, and a new adventure footgolf course. Visitors can simply stay and play or try and buy. Next to the Suffolk, Norfolk and Essex coast, Stonham Barns Park is a go-to destination venue for families from the East of England and from all over the UK.
Keith Forward, Director at family owned Stonham Barns Park, says: 'We have many people who come to Stonham Barns Park for a short break and then become regulars or lodge owners because of the benefits of being outdoors and surrounded by nature.'
'UK breaks have become particularly important in recent years as a method of destressing for the whole family. It is important to have somewhere to go to where you can relax on arrival and we think that Suffolk always offers something unique to those who want to camp, glamp or relax in a luxury lodge.'
'Camping in all its forms puts us outside more – and gives us a temporary break from technology – and so it can only be good for us. We live with so many challenges in life that anything that helps people to feel better about themselves and each other is vitally important. Short and long breaks in the UK are maintaining their position in terms of volume of bookings as people enjoy the sense of adventure and relaxation that comes with holidaying at home.'
Static and lodge sales can follow domestic holidays because some of the people who book short breaks sometimes then explore holiday home ownership options.
Over the past two years, more people have purchased a holiday home in the UK to save the uncertainty of travelling abroad and the increased cost of foreign travel – and some have even purchased a holiday bolthole near to family to combine a break away with a chance to see family members, who might not have space to accommodate family members for visits.
Nick Church, Lodge Sales Manager based at Stonham Barns Park, talks about the variety of state-of-the-art static caravans and lodges that you can invest in to make the most of a 'family and friends' holiday. 'You can use the holiday homes for up to 11 months of the year you simply need a main residential address to buy – the season runs from February to December every year. The lodges and static caravans are now beautifully modern holiday homes.  They have evolved to residential level luxury and so are attracting a new set of buyers who want to optimise their mini breaks during the year.'
A holiday home in the static section of Stonham Barns Park holiday park can be purchased for anything from £15,000 to £70,000. These are typically 2-bedroomed caravans that sleep up to 6 people. Those who buy and rent out to family and friends can often expect to pay for their investment in around 3-4 years. Lodge sales can range from £70,000 to £350,000 and come with lake or golf locations, a 6-metre strip of land, and are usually enhanced with decking, a BBQ and a hot tub.
Master bedrooms with showers and open plan kitchen and living areas make the accommodation feel like a home from home. An outdoor lifestyle including Al Fresco dining are major drivers for a UK holiday home purchase.
New leisure facilities are being added to Stonham Barns Park to enhance the visitor experience including a new sports bar and clubhouse, new children's play facilities and new adventure footgolf.  The venue also includes fishing lakes, an owl sanctuary and birds of play centre, a nine-hole golf course, adventure golf, footgolf, golf simulators, theatre, and around 40 village shops, a café and restaurant and a garden centre.
For more information about holiday homes at Stonham Barns Park please contact
Nick Church on 01449 7115755 or email: [email protected]